Aortic dissection with haemopericardium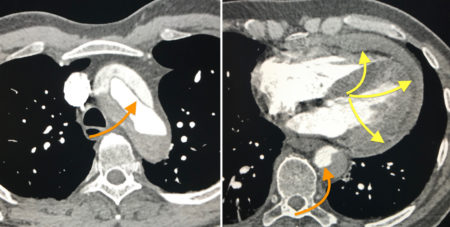 This 60-year-old man with a long history of hypertension presented to the ED with severe acute chest pain. CXR showed mild cardiomegaly but was otherwise normal.
A CT was requested which showed extensive Stanford type A aortic dissection, involving the ascending aorta, arch, descending thoracic aorta and extending into the abdomen. The dissection flap is indicated in these images by the orange arrows, separating the aorta into true and false lumens. The cause of the apparent cardiomegaly in this case was due to rupture of the dissected aorta into the pericardium, resulting in a haemopericardium (yellow arrows), a potentially fatal complication of this condition.
For more detail on the imaging of aortic dissection, see this page.