Honeycombing and traction bronchiectasis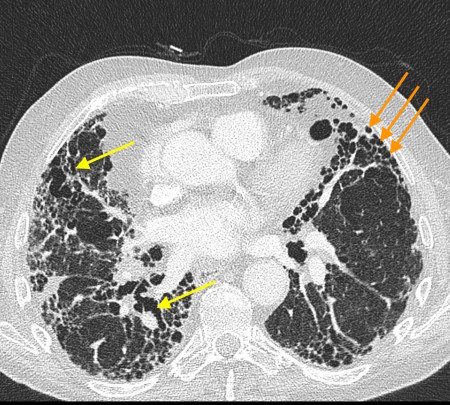 These are two well-described features of interstitial lung disease, and this is a typical example of both. This patient's high-resolution CT chest showed a UIP (usual interstitial pneumonia) pattern: the fibrotic changes predominate in the lung bases and subpleural regions, and are associated with honeycombing (orange arrows) and traction bronchiectasis (yellow arrows). The latter is, as the name suggests, caused by the fibrotic lung pulling on the bronchi, causing irreversible dilatation.
The most common cause of UIP is idiopathic pulmonary fibrosis (IPF), which is diagnosed when other causes are excluded. These alternative causes include: connective tissue disease (rheumatoid arthritis, scleroderma, SLE), asbestosis (seen much less frequently these days), and drugs (methotrexate, amiodarone, bleomycin amongst others).