Renal laceration – CT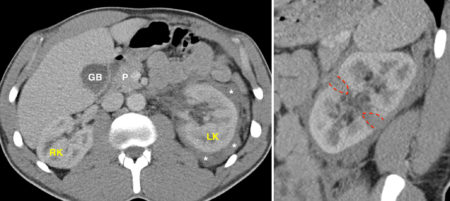 This man in his 30s was brought to the ED after blunt injury to his left flank.
Contrast-enhanced CT was performed and showed high attenuation material ('*') around the left kidney (LK), consistent with haemorrhage.
RK = right kidney, GB = gallbladder, P = Pancreas.
The sagittal CT image on the right shows the source of this perirenal haemorrhage – the low attenuation areas in the renal parenchyma, outlined by the dashed red lines, represent lacerations. With the widespread use of multidetector CT, allowing multiplanar reformats like this, renal injuries have become much easier to diagnose. When a renal laceration is identified, we perform an additional delayed CT around 10 minutes later to determine whether there is any leak of excreted contrast, which would mean that the laceration has extended to the collecting system causing a urine leak. There was no urine extravasation in this case.
Renal injuries are classified according to the American Association for the Surgery of Trauma (AAST) and are graded from 1 to 5, with 5 being the most severe1:
Grade 1 – renal contusion (no CT abnormality), non-expending subcapsular haematoma
Grade 2 – superficial renal laceration (< 1cm deep), non-expanding perirenal haematoma
Grade 3 – renal laceration > 1 cm in depth but not extending into collecting system, non-expanding perirenal haematoma
Grade 4 – renal laceration extending into collecting system, and/or injury to main renal artery or vein
Grade 5 – shattered kidney or avulsion of the renal hilum resulting in a devascularized kidney
The majority of renal injuries encountered in clinical practice are low grade and do not require surgery or follow-up imaging2. In the example presented here, the injury was grade 3 as the lacerations were more than 1 cm deep but did not involve the collecting system.
References:
AAST injury scoring scales. http://www.aast.org/library/traumatools/injuryscoringscales.aspx#kidney
Ramchandani P, Buckler PM. Imaging of genitourinary trauma. AJR June 2009. doi: 10.2214/AJR.09.2470