Rectal perforation with pneumomediastinum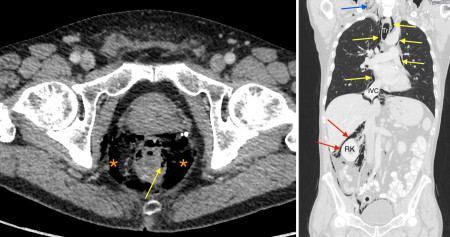 This patient with a background of inflammatory bowel disease underwent a colonoscopy. Subsequently, a CT thorax and abdomen was performed – this had been arranged prior to the colonoscopy. The CT showed perforation of the wall of the rectum – the image on the left shows gas tracking through the rectal wall (arrow) with a large volume of gas in the pelvis around the rectum ('*'). Coronal CT image on lung windows, right, showed that the gas had tracked superiorly through the retroperitoneum (red arrows) outlining the right kidney (RK) – the kidneys are retroperitoneal so seeing gas around one or both is a helpful clue to the location of the gas, even on a PFA. Gas had also passed alongside the IVC to the mediastinum (yellow arrows), and along the trachea (Tr) into the neck resulting in surgical emphysema (blue arrow). The patient was asymptomatic and was managed conservatively.
While we commonly encounter pneumoperitoneum on imaging, retroperitoneal gas ('pneumoretroperitoneum') is infrequently seen. It is commonly associated with iatrogenic perforation – at OGD, ERCP or colonoscopy. Other potential causes include perforated duodenal ulcer (the second to fourth parts of the duodenum are retroperitoneal) as well as diverticulitis. When we see a massive amount of retroperitoneal gas, as in this case where it had extended to the patient's neck, it's worth considering endoscopy as the most likely cause as this used pressurised air to distend the hollow organ being evaluated.