Cervical myelopathy – MRI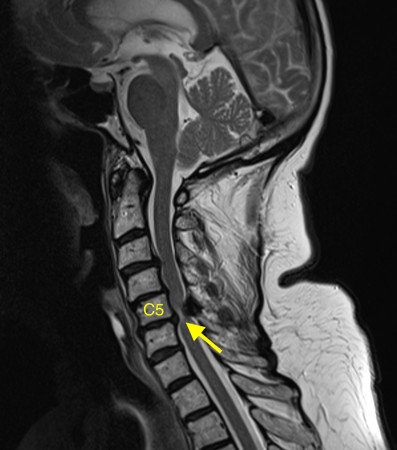 This patient, in her 70s, presented with progressive lower limb weakness and an unsteady gait as well as upper limb weakness and numbness.
This is a sagittal T2-weighted MRI – you can tell it's T2-weighted because the CSF around the spinal cord and in the ventricles is bright. It shows degenerative disk disease at multiple levels – note how several of the low signal disks are bulging into the spinal canal. At C5-6, there is a large disk bulging into the anterior aspect of the spinal canal. You'll also notice that there's a low signal abnormality behind the cord at the same level – this is a thickened ligament (the ligamentum flavum), which is commonly seen wherever there is degenerative change in the spine, especially when there is facet joint osteoarthritis (which was present in this case but isn't visible on this image). The combination of the disk bulge and thickened ligament has resulted in severe spinal stenosis with compression of the spinal cord. The fact that there is abnormal high signal (arrow) in the cord indicates that the compression has resulted in myelopathy – when due to degenerative change this is termed 'cervical spondylotic myelopathy', which is quite a mouthful.
Although the cause is obvious in this case, there are several potential entities to consider whenever we see abnormal T2 high signal in the spinal cord. These include transverse myelitis, multiple sclerosis, acute disseminated encephalomyelitis, infarction, trauma and spinal cord tumours such as astrocytomas.
Treatment options for spondylotic myelopathy include surgical decompression, however the symptoms are not always reversible.