Liposerohaemarthrosis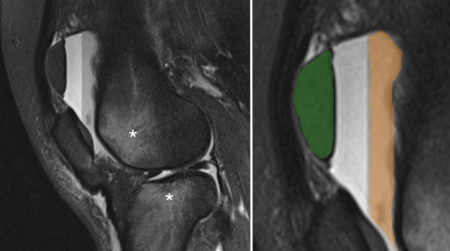 This image is from a sagittal fat-suppressed knee MRI performed on a rugby player who was admitted through the ED after a nasty tackle.
Because the signal from the normally bright marrow fat is suppressed, this allows us to easily identify bone marrow oedema. In this case, there is high signal oedema in the lateral femoral condyle and the lateral tibial plateau, indicated by the asterisks '*'. The oedema was caused by fractures that were not visible on radiographs performed a few days earlier, however the presence of a fracture was predicted as the radiograph showed a lipohaemarthrosis.
As a reminder, a lipohaemarthrosis shows up on a horizontal beam lateral view of the knee as an effusion in the suprapatellar recess with a perfectly straight line running through it at the interface between dependent blood and fat floating on top of it. This fat can only have come from the bone marrow, which means that there has to be a fracture. Often this floating fat is the only radiographic clue to the presence of a significant bone injury, in which case we typically perform a CT to find the fracture. See a radiographic example of a lipohaemarthrosis here.
After a few days, the haemarthrosis component frequently separates (the haematocrit effect) into serum and red cells resulting in three distinct layers, making this a liposerohaemarthrosis, as illustrated in this case – note the fat floating on the surface is black as this is a fat-suppressed MRI. These layers are patriotically colour-coded in the magnified image on the right: fat=green, serum=white, blood=orange.